The patented Snow Defender® 4500 is the snow guard you need for long lasting protection against melting snow. Designed for use with exposed fastener panels on 2×4 purlins in the flat position.
The EPDM Rubber seal makes installation quick and easy. No extra caulk to take up on the roof, just screws and snow guards. The 304 Stainless Steel design and ability to use up to a #14 screw for fastening assures that these snow guards stay on the roof. They come in 40+ colors which allows you to match virtually any metal roofing color. They are designed for use with wood furring strips or purlins under metal. The traditional look adds character to your roof project while protecting people, vehicles, and landscaping below. The Snow Defender® 4500 allows snow to come off the roof in small pieces, while keeping it from sliding off all at once.
Not for use with standing seam roofing
• Made with 16 gauge type 304 stainless steel
• EPDM rubber sealer
• Powder coated
• Multiple colors in stock
• No caulk needed
• Patented
Installation instructions- Click here (opens in new tab.pdf)
Use Snowdefender's free calculator to determine how many snow guards are needed for your project. Click Here.
Colors in pictures may vary based on the actual color of the product due to many limitations including computer screen settings and scanning/photo equipment. The color names are generic color names and are not meant to match a specific steel panel manufacturer's color. If you are looking to match a guard to a specific color we highly recommend purchasing one guard and seeing if it will work for you. As return shipping is costly for large quantities.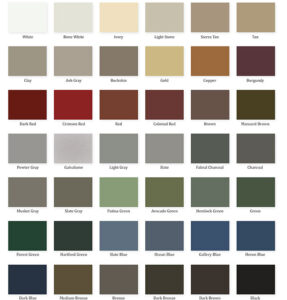 *Standard Flat rate shipping is for the Lower 48 States. Shipments to Alaska, Hawaii, and Canada will be priced directly from our USPS or UPS account rates. Other shipping options are available and can be seen on the cart/checkout pages.