The patented Snow Defender® 6500 is designed for standing seam roofs and is the snow guard of choice for many roofers. It fits standing seams up to 3/8″ width and most 1″ through 1 3/4″ seam heights.
This strong 304 stainless design and patented non-piercing clamping attachment allows snow retention on most standing seam profiles. It's also available in 40 plus colors that match with popular standing seam roof colors.
Made with Type 304 Stainless Steel
410 Stainless Steel set Screws to Prevent Seizing
Powder Coated
Multiple Colors to Choose From
Mill finish is a bare snow guard with no paint
Does Not Penetrate Through Metal
Patented
Installation instructions- Click here (opens in new tab.pdf)
Use Snowdefender's free calculator to determine how many snow guards are needed for your project. Click Here.

Important notice regarding the colors shown below and in the photos. 
Colors in pictures may vary based on the actual color of the product due to many limitations including computer screen settings and scanning/photo equipment. The color names are generic color names and are not meant to match a specific steel panel manufacturer's color. If you are looking to match a guard to a specific color we highly recommend purchasing one guard and seeing if it will work for you. As there are no returns on this product as it is special order.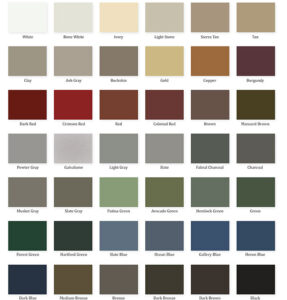 *Notice the SnowDefender 6500 snow guard will not work for all standing seam panel systems. We recommend you verify the shipment before ordering.
*Lead time varies on some colors. Please call to confirm availability if you need your order as soon as possible.